Moving Onwards Forward: An Advent Message From Ilia Delio
"If God has already come to us, what are we waiting for? What you are looking for has already arrived."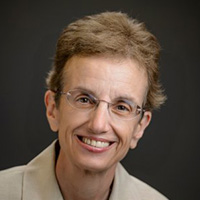 Ilia Delio, OSF is a Franciscan Sister of Washington, DC and American theologian specializing in the area of science and religion, with interests in evolution, physics and neuroscience and the import of these for theology. Ilia currently holds the Josephine C. Connelly Endowed Chair in Theology at Villanova University, and is the author of seventeen books including Care for Creation (coauthored with Keith Warner and Pamela Woods) which won two Catholic Press Book Awards in 2009, first place for social concerns and second place in spirituality. Her book The Emergent Christwon a third place Catholic Press Book Award in 2011 for the area of Science and Religion. Her recent books include The Unbearable Wholeness of Being: God, Evolution and the Power of Love (Orbis, 2013), which received the 2014 Silver Nautilus Book Award and a third place Catholic Press Association Award for Faith and Science. Her most recent book "A Hunger for Wholeness" was published in 2018.
Support Our June Fundraiser
Our June fundraiser this year is focused on giving the next generations reasons to hope in the goodness of God and the binding power of love. Please donate and help us share our vision around the globe.
Make a Donation
What is God Today?
What is God Today? is an Center for Christogenesis video series featuring interviews with Ilia Delio on the meaning of the divine in the 21st century and what God is doing in our midst. Watch the Series

Articles by Ilia
Featured Testimonial
Dear Ilia, Your gift of insight is prophetic and your hopes and desires for a "New Church" for our time and beyond is certainly challenging. But, beyond equality of gender and removal of old ecclesial structures, what structures or ways of living and worshiping would you promote in our day and beyond? Where do you worship now? How do you reflect the love of God beyond your writing? From a man of hope, Myrt
Myrt Rollins
Submit a Testimonial